Chicken Veggie Soup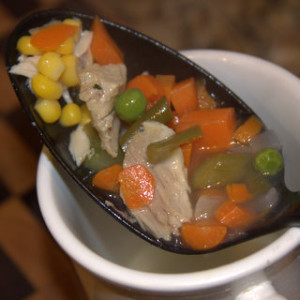 I  wanted to do it gluten free so used GF baking mix and cornstarch instead of  flour and mine is still pretty thin. I would like it more stew like, but if you did not need it to be Gluten Free you could use flour and make it thicker.
Instructions
I boiled 6 chicken legs (bone and skin on, I lilke this for recipes like this since they are so much cheaper) the ends of the carrots, and celery, and some garlic to make stock while cooking the chicken.
Melt the butter and saute the onions, carrots and celery for a few minutes.Saute all these veggies until semi-soft. Add baking mix, stirring for 1 minute.
Add chicken stock and bring to a boil. Add all frozen veggies and green beans and cook until the veggies are done.
Add shredded chicken to the soup and then turn soup off. Add Cornstarch to to thicken as needed.
Cooking chicken and making broth.
You can also add a handful of rice to thicken if you would like, I do sometimes.
Print




---