Candied Jalapenos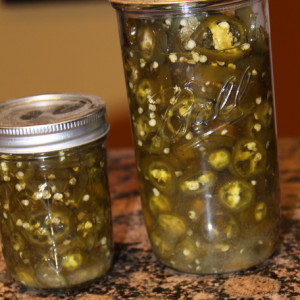 These were a BIG hit last summer.
Instructions
While WEARING GLOVES, cut the stem end of the pepper off. Then slice the peppers into 1/2 inch rounds. Sit aside
Bring vinegar, sugar, turmeric, celery seed, and garlic to a boil. Simmer for about5 mins. Then add the pepper for about 5 minutes.
Fill sterilized canning jars, which pepper only no juice, leaving 1/4 inch free from the rim of the jar. Then bring the syrup to a hard boil for 6 minutes.
Fill the jars with the syrup, put sterilized lids on the jars and place in a water bath for 12 minutes. Let sit for at least 14 days before enjoying.
Print




---