Ribs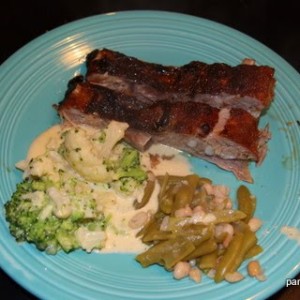 Tonight we had some Yummy ribs thanks to my Dad. I think he thinks we might be starving since every time he comes to visit he brings some kind of meat, now don't get me wrong I appreciate it. My husband is not a big fan of bone in any meat so Ribs are not something that I usually buy. But they were so yummy.
Prep Time : 15 minutes
Cook Time : 3h 10 min
Ingredients
Instructions
I put a bit of rice vinegar and Olive Oil on the ribs and lots of garlic salt and Emeril's Essence seasoning.
I baked at 325 degrees for about 2 1/2 hours then put some Oriental BBQ sauce on them and baked for about 30 mins more then broiled for about 6 mins.
Print




---