A Beet Tip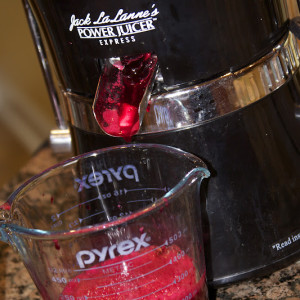 My Husband is NOT a fruit and veggie kind of guy BUT he has been enjoying Smoothies and has one every morning and most evenings after a trip to the gym. So it has been my quest to get as many DIFFERENT types of fruits and veggies in those smoothies and I try to make them with at least half vegetables. This way I know he is getting daily needed goodies even if he is not actually eating any fruits and veggies other than his smoothies. I also talked about Here on how a juice and freeze all kinds of juices for smoothies. This really helps me get more variety in the smoothies and makes it very easy for me so I am not cutting and or juicing everyday.
My hubby and son think a smoothie MUST be red or purple if it is not This Green Smoothie, so I have found that along with the blueberries I use that beet juice it is VERY red and beets are something that NO ONE in my house NORMALLY eats. So this is a great way for us to get the nutrients  of beets. If you would like more Information on beats just go Here.
Ingredients
Instructions
So I juice raw beets and freeze and throw them in all our smoothies.
Print




---