Roasted Carrots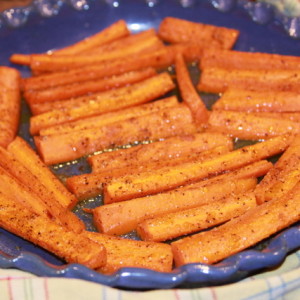 Roasted Carrots have to be the easiest side dish and you can't get much more budget friendly either. Carrots are another vegetable that I think is better while it still has a crunch to it I don't like mushy carrots.
Prep Time : 5 minutes
Cook Time : 30 minutes
Instructions
Cut carrots into "Stick" peel if you like.
Drizzle some olive oil over the sticks and liberally sprinkle with  House Seasoning (salt, pepper, & garlic).
I sometimes add a bit of sugar too with my seasoning.
Then bake at 350 degrees for 30 minutes and that is IT! How easy is that.
Print



---