Gluten Free Blender Pancake.. German Pancakes.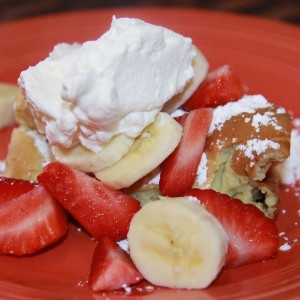 Blender pancakes are great when you have a crowd or don't have time to stand over the stove. You just throw everything into the blender then pour into a baking dish and bake. I wanted to make a Gluten free version and these work great.
Warning... these have a lot of eggs in them so they are not light like normal pancakes and they have a bit of egg taste but if you enjoy them while they are warm they are fabulous.
Prep Time : 15 minutes
Cook Time : 45 minutes
Instructions
Warm your oven and 9x13 baking dish with coconut oil (or butter) in the bottom to 400 degrees. While warming up the oven throw everything (other than the toppings) into your blender and blend until the batter is nice and smooth.
Then pour the batter into the hot pan and cover loosely with foil. Bake at 400 degrees for 15 minutes then remove the foil and bake for additional 20-30 minutes. Add toppings and enjoy.
Print



---