BBQ spuds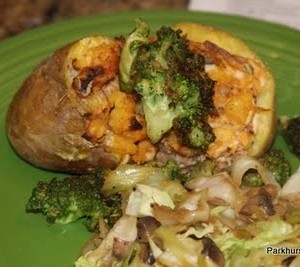 I was not overly thrilled with it but my Hubby Loved them. If I made these again I think I would try using Chicken with wing sauce instead of Barbecue sauce, but we like things spicy around here.
Prep Time : 30 minutes
Cook Time : 1h 25 min
Instructions
Bake potatoes boug 40 -60 mins.
Then cut potatoes down the center and scoop out the pulp carefully into a bowl. leaving the shells in one piece mash potato pulp, cream cheese, and next 5 ingredients.
Stir in pork and cooked onions. spoon mixture evenly into shells and top evenly with cheddar cheese.
Bake at 375 degrees for 25 mins.
I added broccoli to mine and served with grilled cabbage.
We would love for you to follow us on Facebook!
Print



---