Canning Banana Pepper Rings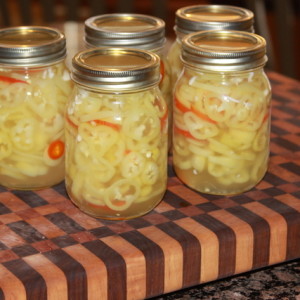 This time of year the only thing still join gin the garden are peppers and sine we were suppose to have a frost I picked all I had and canned a few for pizzas and sandwiches later on. My banana peppers were very mild so I added a few jalapenos to spice them up a bit.
Prep Time : 10 minutes
Cook Time : 15 minutes
Instructions
Bring vinegar, water, garlic, and salt to a boil and reduce heat and cook for 5 minutes, if you are not a fan of garlic remove it but I kept mine in.
Then pack raw peppers into hot jars leaving 1/2 inch head space. Then ladle the hot liquid over the peppers keeping 1/2 inch head space.
Remove wire bubbles adjust head space, wipe rims and place lids on jars and process in a water bath for 10 minutes.
Print



---