Chocolate Cherry Cobbler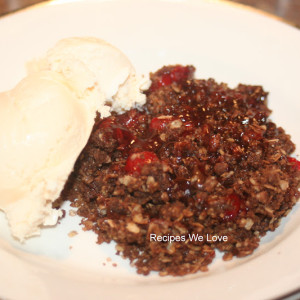 We had this tonight and it will be a staple. So yummy and cheap and easy. Great to take anywhere and some ice cream would make it even better. I got it from one of my favorite sites.
http://stolenmomentscooking.com/chocolate-cherry-cobbler/
Prep Time : 15 minutes
Cook Time : 20 minutes
Instructions
Pour cherry pie filling into a small casserole dish. Stir in chocolate chips.
In a medium sized bowl, mix together oats, sugar, flour and cocoa powder until combined. Cut butter into the oat mixture with a pastry cutter, two knives or your hands until crumbly, making sure to leave some bigger clumps as well.
Spoon oat mixture on top of the cherries. Bake at 350 degrees for 15-20 minutes, until set. Serve warm with ice cream or whipped cream on top.
Print



---