Apple Pie (with streusel topping)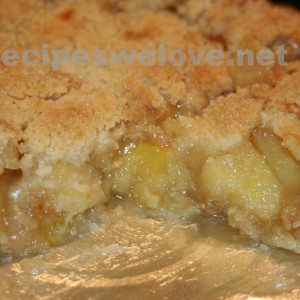 Apple Pie (with streusel topping) - warning this is so not healthy! 🙂
Submitted by Amber
Prep Time : 30 minutes
Cook Time : 45 minutes
Instructions
Preheat oven to 425 degrees F (220 degrees C). Melt the butter in a saucepan. Stir in flour to form a paste. Add water, white sugar and brown sugar, and bring to a boil. Reduce temperature and let simmer.
Place the bottom crust in your pan. Fill with apples, mounded slightly.
Pour sugar and butter mixture over apples.]
Cover with streusel. (see streusel instructions below). Sprinkle with some cinnamon.
Bake 15 minutes in the preheated oven. Reduce the temperature to 350 degrees F (175 degrees C). Continue baking for 35 to 45 minutes, until apples are soft.
Streusel Topping Instructions
Mix flour and sugar, then add the butter. Instead of cutting the butter in to the mixture with a knife I use a food processor to mix the three ingredients. The consistency will have some chunks still. Once it bakes it will be fine.
We would love for you to follow us on Facebook!
Special thanks for our fellow bloggers who linked up this recipe:
Something Swanky, Caroles Chatter, Thirty Handmade Days, 504 Main
Print



---