Beef and Broccoli (and carrots and onions too)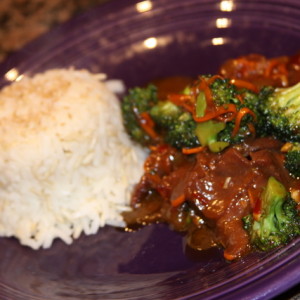 Instructions
Whisk together the baking soda, sugar, cornstarch, soy sauce, water, and vegetable oil in a large bowl. Toss the sliced roast with the marinade to coat. Cover and refrigerate for a couple of hours.
Mix together the soy sauce, brown sugar, garlic, and corn starch, Set aside.
In a large pan, heat vegetable oil until hot. Cook onions for 3-5 minutes, add carrots and  broccoli and saute 3 minutes, stirring often.
Add  1 tablespoon of oil to the hot pan. Add the the meat and half of the marinade cook while stirring  for 3-5 minutes, until the meat is cooked through and no longer pink. Stir in the vegetables and remaining sauce. Saute 2-3 minute more. Serve over rice.
Serve with Rice (since brown rice is better for us, but my family is not a big fan of it I mix mine half white and half brown in the pantry).
We would love for you to follow us on Facebook!
Special thanks to our fellow bloggers who linked up this recipe: Everyday Mom's Meals
Print



---