Cranberry Cream Cheese dip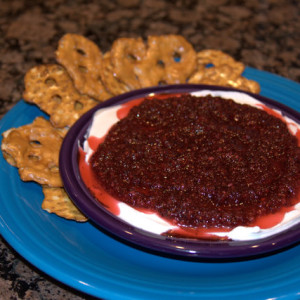 This would be good for thanksgiving before the meal or for evening snack. I think the Cilantro was too strong and may just leave out all together next time.
Prep Time : 15 minutes
Cook Time : 4h 00 min
Instructions
Put everything expect the cream cheese in the food processor and plus till smooth and you no longer see the sugar.
Cover and store in the fridge for at least 4 hours.
Place your cream cheese on a plate.
 Serve with Wheat Thins, Ritz Crackers or Tortilla Chips.
Print



---