Meat loaf stuffed pepper rings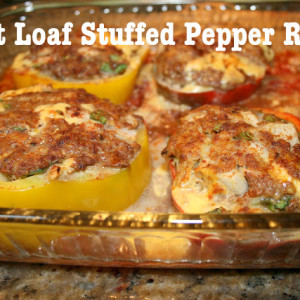 The main attraction, sliced bell peppers stuffed with meatloaf. I saw this idea the other day on the Food network and had to try the idea, I use my own meatloaf recipe but just put it in thick slices of bell peppers, from the farmer's market. This was yummy but the best part is how easy it is to serve, great for company. I am going to try to freeze some pepper rings while they are cheap. I freeze peppers to cook later so they should would out fine. I put salsa in the bottom of the baking dish before putting the stuffed peppers in the dish.
Instructions
Mix with hands, the only way to do it.
Then dust the top of loaf or stuffed peppers with more chili powder.
Bake at 350 degrees till done.
These Patties with or without the peppers freeze well and I often pull them out for my hubby's lunch.
Today we are linking with the following blogs and don't forget to visit us on FACEBOOK!
The Gril Creative, Reasons to Skip Housework, Funky Polkadot Giraffe, Mandy's Recipe Box, Not Just a Housewife
Print



---