Strawberry Lemonade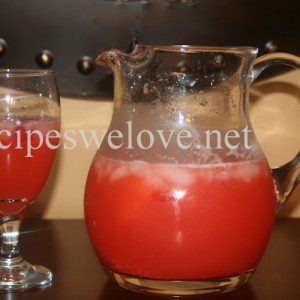 I love lemonade and fruity flavored things and had seen several different fruity lemonades on pinterest. I read through a few recipes and came up with this one below! I also used honey that was not shown in this picture.
Instructions
I put strawberries, juice from lemons, sugar and 1/2 cup water in a saucepan and brought to a boil. I cooked until sugar dissolved. I also added two of the lemon halves while it was boiling.
Once sugar was dissolved I removed the lemons, added the honey and put it through my food processor. I then poured in to pitcher, added additional ice and water. I did put some lemon slices and frozen strawberries in the pitcher but you can't see them in the picture at the top.
We would love for you to follow us on Facebook!
Special thanks to our fellow bloggers for linking up this recipe: Momnivores Dilemma, The Artsy Girl Connection, Miz Helens Country Cottge, Bear Rabbit Bear, A Creative Princess, Michelles Tasty Creations, A Glimpse Inside, Whats Cooking Love, The Grant Life, The Sweet Talk Shop, Kaylas Creations Blog, My Favorite Finds, My Girlish Whims, Fireflies and Jellybeans, The Brambleberry Cottage  My Turn  Natasha In Oz
Print



---