Strawberry Jam (Amber's Version)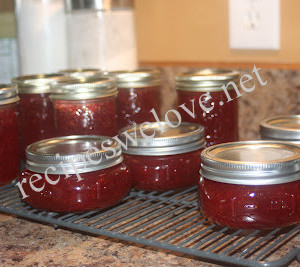 For Mother's Day I wanted my hubby and kiddos to go pick strawberries so that is what we did this past weekend. I had big plans and several recipes I was going to try but time started getting away from me so I did a double batch of strawberry jam and cut up and froze all the rest for smoothies and more jam later on. Here is the recipe I used:
Prep Time : 10 minutes
Cook Time : 16 minutes
Instructions
Put strawberries in large saucepan with sugar, butter and lemon juice.
Cook until it is in rolling boil for about 5 minutes.
Add liquid pectin packages and bring back to rolling boil for about 1 minute. Be sure to stir constantly for that minute (I know from experience you have to stir!!).
Remove from heat and skim off any foam with metal spoon. Pour into warm, sterilized jars.
Add sterilized lids and rings. Place in hot water bath for 10 minutes. I just got this lifter thing (I know, really technical term) so I just lifted them up and turned the burner off and let them sit there for a bit before I moved them to a wire rack to sit on the counter over night!
This recipe yielded ten 1/2 pints of strawberry jam! We even had a tiny bit left over to put in the refrigerator for now and it is YUMMY!!
We would love for you to follow us on Facebook!
Special thanks to our fellow bloggers who linked up this recipe:
Print



---