Grilled Brussel Sprout Kabobs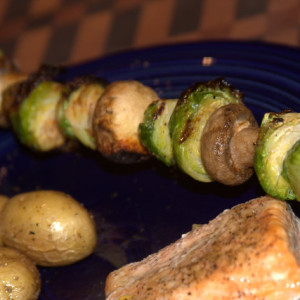 I know when you hear the word BRUSSEL SPROUTS, you think about over cooked slimy boiled brussel sprouts, I DON'T WANT THOSE EITHER... But When you DON'T over cook them brussel sprouts are wonderful. But whatever you do DON'T cook them too much.
Prep Time : 10 minutes
Cook Time : 15 minutes
Ingredients
Instructions
 Start with "fresh" brussel sprouts which means they are bright in color and very firm. I cut the core off the bottom and that the outside layer of leaves. Then I also cut them in half.
I take my cleaned halved brussel sprouts and a few clean mushrooms and put them on a kabob. Then drizzle a little olive oil, and l use my house seasoning (Salt, pepper, and garlic) and a bit of cayenne pepper to taste. Then place it right on the grill. Cook just until warm through and try to to over cook them. I only made one in these pictures since I am the only one in my house that will eat brussel sprouts or mushrooms.
Print



---