Avocado Fries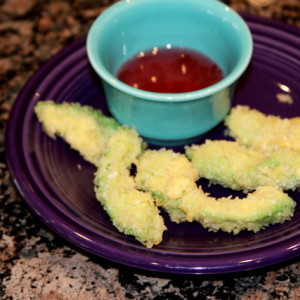 I found this recipe on pintrest... well, indirectly. I found a "baked avocado fries" on pinterest followed it back through a few blogs and everyone had a little different take on this dish So I gave it a try. These are GREAT, but I LOVE avocado. I served mine with pepper jelly to dip them in and the sweet was a wonderful addition. On their own they could be a bit bland.
I also used pepper jelly for a dip with the fries and did no use the cheese in this picture, most of the recipes I looked through used it but I did not since I was using the pepper jelly as a dip.
Instructions
Mix and all dry ingredients into one dish
Beat eggs in another bowl.
Then dip avocado slices into the egg and then in the panko mixture then add to HOT oil and fry until golden brown.
This post is linked up with: Carole's Chatter
Print



---