Grandpa's BEST EVER French Fries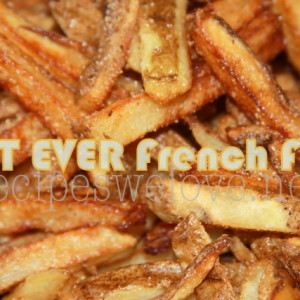 Ok, so you won't have me sharing many fried recipes but these are a real treat and so simple. My Father is a big fisherman and really enjoys cooking so he is often having fish fries. Along with his fried fish he makes these french fries and they are so so good. I usually don't eat the fish so I can have extra fries.
Prep Time : 15 minutes
Cook Time : 60 minutes
Instructions
We use this potato cutter and it makes all the fries the same size and is very fast, you can cut them by hand but if you make many you will want  one of these tools.
Once the potatoes are cut let them soak in water for a few minutes up to a few hours. Drain and pat dry before cooking.
Once your oil is hot add your fries and leave them alone until they are cooked through, we like our crispy so we leave ours a little longer. Once they are done, dip them out on to a tray or pan lined with paper towels to absorb some of the oil and salt liberally.  Don't you just want to dig in?
Print



---