Gluten Free Spinach and Artichoke Pasta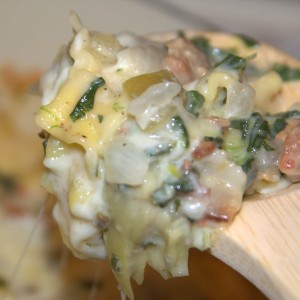 I found the idea for this recipe from this website via pinterest, but wanted to make it Gluten Free.  I did not have my camera when I made this so this is a picture from my phone but I will be making this again so I will update pictures then.
Prep Time : 15 minutes
Cook Time : 30 minutes
Instructions
Cook and chop bacon, and cook pasta according to package ( DO NOT OVER COOK).
In the pan you cook the bacon in, using a little of the grease saute your onions and garlic for about 5 minutes just until they become tender.
Whisk in the Gluten Free flour and stir for another minute or so. Then whisking constantly pour in the milk and chicken broth and bring to a simmer. If this is not smooth add a little more milk.
Once the sauce has thickened and is hot add the spinach, and artichokes once they are hot (about 2 minutes) add the bacon , 1 cup of pepper jack cheese, and all of the Parmesan cheese along with bacon and stir until the cheese melts.
Then place the pasta in a baking dish and top with the remaining pepper jack cheese and bake for 15 minutes or broil for 2-5 minutes until golden brown.
Print



---