Easy Peach Crisp… any fruit would work, Gluten Free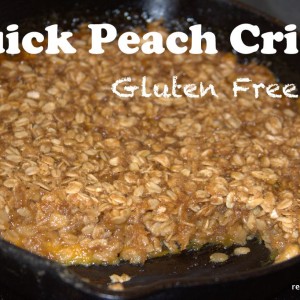 During the summer I freeze fruit as it comes into season so then we can enjoy local organic fruit all winter long. But you can also buy frozen fruit for this dish. This night we felt like peaches so I pulled out a bag of frozen peaches. This is super easy and fast and will work for with any fruit and when you use Gluten Free oats and flour it is also a gluten free dessert.
I cook mine in a 10 inch iron skillet so it is thin and cooks very quickly.
Prep Time : 10 minutes
Cook Time : 25 minutes
Instructions
In a pan warm the fruit, coconut oil, and sugar if needed just until the fruit is warm and a little of the liquid cooks off. Place this mixture in bottom of your baking dish, again I use a 10 inch iron skillet.
Then mix all the topping ingredients and layer over the fruit. Then bake for 25 minutes at 350 degrees. If you cook in a smaller dish you will need to cook it a little longer.
This is best served warm and with ice cream.
Print



---