Flaxseed Oat Bread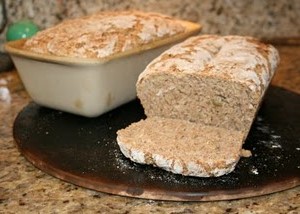 This is a heavy dense bread.
Prep Time : 15 minutes
Cook Time : 35 minutes
Instructions
Soak yeast, warm water, oats, and flaxsee for about 10 minutes. Then mix in all other ingredients. Knead for a couple of mins and make into the shape of your loaf pan (I use a large loaf pan for this bread) and place the dough in a greased bread pan.
Cover with a damp cloth and let it rise for at least 60 minutes in a warm place. Pre heat oven to 400 degrees. Once the dough has risen make a cut in the middle of the dough. Bake for 30-35 minutes until golden brown.
Print



---