Bird Seed Energy Bars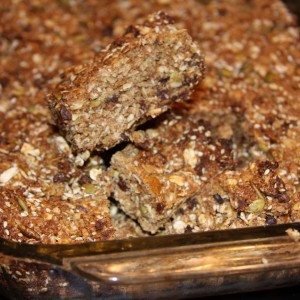 Prep Time : 15 minutes
Cook Time : 25 minutes
Instructions
Preheat oven to 350 degrees F (175 degrees C). Lightly grease a 9x14 inch ovenproof baking dish.
Mix the rolled oats, brown sugar, wheat germ, cinnamon, and flour together in a large bowl.
In a separate bowl, whisk together the eggs, honey, canola oil, vanilla, and salt until evenly blended., and stir into the oat mixture.
Stir in the flax seeds, sesame seeds, sunflower seeds, and chocolate chips.
Use your hands to mix the ingredients, and press the mixture into the prepared pan.
Bake in preheated oven until the edges are golden brown, 20 to 25 minutes. Cool completely in the baking dish before cutting into 2 inch bars.
We would love for you to follow us on Facebook!
Special thanks to our fellow bloggers for linking up this post: Funky Junk Interiors
Print



---