Chicken Bruschetta Pasta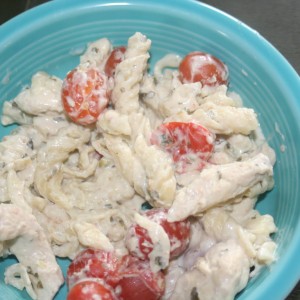 My grocery was sold out of fresh basil when I went this weekend. I found a tube that had organic basil in it and used about 2 1/2 tbsp of it.
Prep Time : 10 minutes
Cook Time : 12 minutes
Instructions
Cook chicken 5 to 6 min. or until done.
Stir in broth and garlic powder; cook 3 min.
Add cooking creme and tomatoes; cook and stir 3 min.
Stir in pasta and basil.
Print



---