Tomato and Corn Rice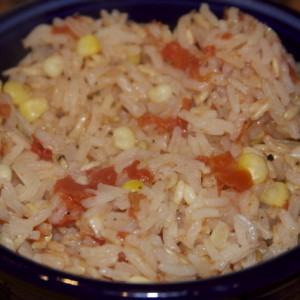 I have meant to post this before but don't think I have. We Have this when ever we have Mexican type dinners, since it is a gluten free dish and Mexican rice mixes usually have MSG in them which has gluten in it.
Prep Time : 5 minutes
Cook Time : 10 minutes
Instructions
NOTE: In these pictures I used tomatoes, and chicken broth that I had canned and Corn I had froze. You can use all store bought canned goods and frozen corn, this is just what I had on hand.
Bring broth, and tomatoes to a boil then add add the rest of the ingredients and cover and reduced the heat. Stir Every free minutes, you may have to add a bit more broth or water if it cooks too quickly. When serving with a Mexican dish I usually add a bit of cheese on top.
Print



---