Carnitas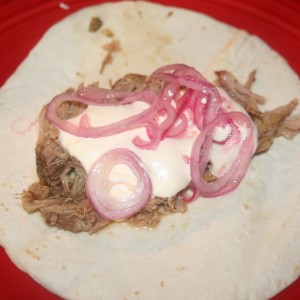 We eat this in corn tortillas topped with lime soaked onions and crema and a tiny bit of fresh cilantro with a side or refried beans or in burritos or on top of tostadas. It is really yummy!
We also put some of this guacamole on it! They were DELICIOUS!!
Prep Time : 15 minutes
Cook Time : 8h 40 min
Instructions
Season pork with salt and pepper. In a pan on med-hi heat, brown pork on all sides for about 10 minutes. Remove from heat and cool.
Using a sharp knife, insert blade into pork, cutting small holes and insert garlic slivers-do this on all sides of the pork.Season pork generously with cumin, adobo and garlic powder. (I got Goya all purpose seasoning with cumin already in it- Tammy)
Pour chicken broth in the crockpot, add bay leaves, and chipotle peppers and their sauce. Place pork in crockpot and cover. Cook on low for 8 hours.
Shred pork using 2 forks and combine with juices left in the crockpot. Remove the bay leaves and adjust the salt and cumin to taste. Let it cook another 15-30 minutes on high.
Print



---