Vegetable Pasta Oven Omelet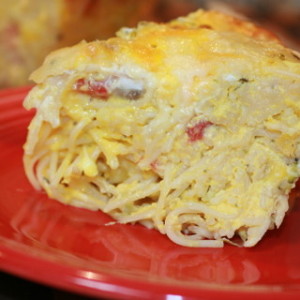 I made this for my dinner tonight since I knew my hubby would not care for it much  and he has leftovers that he LOVES. This would make a good meatless dinner or a side to some baked chicken etc.
Prep Time : 15 minutes
Cook Time : 30 minutes
Instructions
Drain tomatoes well, after baking for aboug 20 minspressing between layers of paper towels; chop.
Whisk together eggs, 1/2 cup cheese, milk, and Italian seasoning and Salt and pepper to taste.
Pour over pasta mixture in skillet.
Bake at 375° for 25 to 30 minutes or until set. Sprinkle with remaining 1/4 cup  cheese. Let stand 10 minutes before serving.
Print



---