Asian-Style Cashew Chicken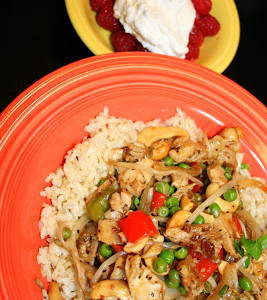 I do most of my shopping at the local grocery which I can walk to so I don't always have the selection of what I need. They did not have Tamari so I used the soy sauce I had they also did not have duck sauce so I used sweet and sour that is the same color as the duck.
Prep Time : 15 minutes
Cook Time : 20 minutes
Instructions
Combine the oil and butter. Once butter has melted add chopped onions and cook for about 2 mins until tender. Then add uncooked rice and cook for 3 more mins.
Add the stock and cover the pan. Bring to a boil then reduce the heat to low for about 15  mins stirring occasionally.
While the rice cooks, cook the chicken. Heat a large skillet add remain oil, and chicken season with salt, pepper, and garlic. Brown the chicken on both sides and move to one side of the pan.
Add the remaining onions, garlic, and bell peppers, cook for 2-3 mins. then season with soy sauce and duck sauce. add the cashews and  parsley and serve over the  rice.
Print



---