Seasoned Black Beans and Rice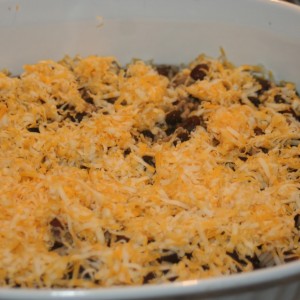 We had this easy side dish at a friends house one night and found out it was another friends recipe. I was shocked to find out how easy and cheap it was.
Per my friends advice I tasted the mixture before adding the cheese and rice to make sure that it tasted good. This was so easy and I fixed it a few weeks ago when we had company and they enjoyed it as well. We put in with chicken taco meat and made tacos/burritos. I didn't get a chance to take a picture of the dish after it came out of the oven.
Prep Time : 10 minutes
Cook Time : 20 minutes
Instructions
Drain one can of black beans and leave part of the juice in the other. To the drained beans add spices and 1 cup of cooked rice. Mix well.
Top with 1 cup of cheddar cheese.
Bake at 350 for 20 minutes.
Print



---