Aunt Corinne's Broccoli Salad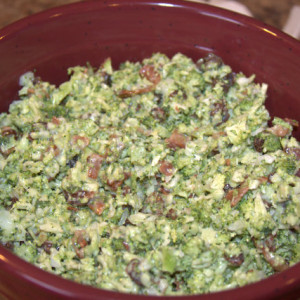 I LOVE this dish and every time I fix I wonder why it has been so long since I have made it, what's not to love it has bacon in it.
Prep Time : 15 minutes
Cook Time : 2h 00 min
Instructions
Mix all then mix dressing and add to salad mix.
This Pampered Chef chopper makes this salad SO much easier. I usually LOVE my food processor but this is one for the hand chopper.
Chill for at least 2 hours before serving. This is GREAT for potlucks.
Print



---