Frozen Yogurt Berry Granola Bites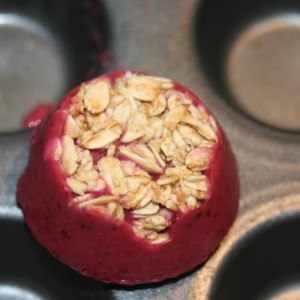 This recipe was originally submitted by Laura but I made a few changes when I made them. I only made a few for the first time to see if I liked them and we did. They made breakfast easy for me this morning. My estimates below are rough estimates and the amounts given should be enough to fill almost the whole mini muffin pan. The mixture I made was enough to almost fill the tray but I decided to only make a few and used the remaining mixture to make a quick smoothie for me for lunch.
Ingredients
Instructions
You can really work with these amounts to make the mixture one you like and that fits your taste buds.
 Put a little granola on the bottom of mini muffin pans. Just enough to cover the bottom.
I used a bag of frozen mixed berries but you could use any type, fresh or frozen.
I put the ingredients in my food processor and mixed until well blended.
Top granola with fruit mixture. Next time I am going to top them with a little granola so that I can hold them without my fingers getting yogurt on them.
Cover pan with foil and place in freezer for a few hours. It is easiest to remove them from the pan if you run a little warm water over the bottoms. The granola bites then easily popped out of the tray with a knife.
I put them in a baggy and back in the freezer so that i could grab them as I wanted them. Next time I will make a whole tray and divide them in to baggies with about 5-6 and that will be my breakfast for the morning.
In a blender mix berries, yogurt, honey and vanilla. Put granola in mini muffin tins. Pour mixture over granola. Cover tray with foil and freeze until firm. Keep frozen until ready to serve.
Don't forget to follow us on Facebook
Thanks to our fellow bloggers we linked up with!
Savvy Southern Style - Wow us Wednesday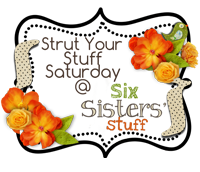 Print



---