Homemade Waffles with Blueberry Sauce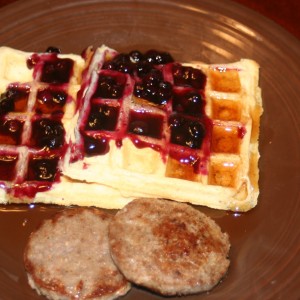 My daughter loves waffles but is allergic to eggs and so I wanted to find a good eggless waffle recipe. I looked at a few different ones and came up with this combination this morning and they turned out really good. Not sure why I thought of add blueberry sauce this morning but it just sounded good with warm maple syrup and sausage this morning.
Ann Kelly had previously posted a recipe that had a blueberry sauce on it and so I used that part of her recipe and just cut it in half. It is here Sausage Blueberry Cake Recipe.
Instructions
For Homemade Waffles:
I melted the butter and whisked the butter, milk and vanilla in a bowl. I will say when I added the cold milk to the warm butter it made little bitty pieces of butter that didn't dissolve in the mixture. This did not mess up the final taste or mixture.
I mixed the flour and baking soda together and then mixed in the powdered sugar.
Add the lemon juice and mix. Gradually add the milk mixture. I mixed all of it in my stand mixer and at first it appeared like it was going to be too runny but after a minute or so it was the perfect consistency.
Put mixture in waffle maker for time designated by your waffle maker.
For Blueberry Sauce:
Put first four ingredients in pot and warm until it is bubbling. Then add lemon juice.
Pour over waffles and pour warm maple syrup over the top. Enjoy!
Print



---