Cherry Pecan Stuffing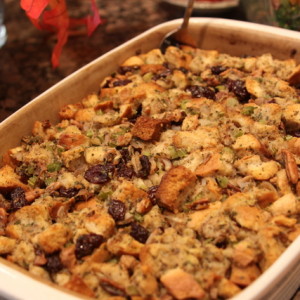 Prep Time : 15 minutes
Cook Time : 50 minutes
Instructions
Preheat oven to 400 degrees. Toast bread pieces until dry and pale golden brown, 10 to 12 minutes. Let cool.
In a large skillet, melt butter, add onion, celery, and garlic and cook, stirring frequently, until onion and celery are softened, about 5-7 minutes. Add cherries, pecans, sage, and fennel seed and cook, stirring, 1 minute. Pour mixture into a large bowl and season with salt and pepper.
Add parsley, eggs, and bread; stir to combine. Add broth slowly, stirring until absorbed after each addition. Season generously with salt and pepper and pour into greased dish. Bake at 350 for 25-30 minutes until deep golden brown on top.
Print



---