Ann Kelly's Slow Cooker WHOLE Chicken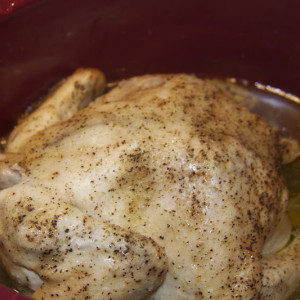 Here is a link to Amber's Slow Cooker Whole Chicken, but I did mine a little differently, not much but a little. We REALLY enjoyed this is was so tender and juicy and fell off the bone. You can use this for so many dishes. You can just eat the chicken or use the cooked chicken in any dish that calls for diced or shredded chicken.
Prep Time : 15 minutes
Cook Time : 7h 00 min
Instructions
I put the broth in the bottom of the slow cooker, then put the onions, garlic, and celery inside the cavity of the chicken, then Put it in the slow cooker. Then I used a fair amount of house seasoning. I would I have liked to spice it up a bit more but I knew I needed to make chicken broth once the chicken was finished and did not want the extra spices in that.
Cooked on low for about 7 hours till internal temp is 180 degrees. I don't have a good finished pictures because it was so tender when I went to pick it up it broke in half. It is SO tender and juicy.
We would love for you to follow us on Facebook!
Special thanks to our fellow bloggers who linked up this recipe: Ginger Snap Crafts, The Shady Porch
Print



---