Slow Cooker Roasted Chicken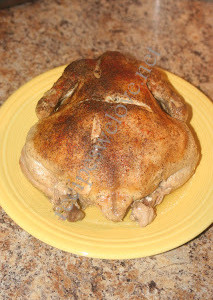 This morning I was in a hurry and needed to come up with a healthy and easy recipe so this is what I put together this morning. I was hoping it would taste good and it got the seal of approval from my family tonight!
Instructions
I rinsed off the outside of the chicken and then patted it dry with a paper towel. Chop up an onion and place it in the bottom of the crockpot with the garlic. Put some celery salt, house seasoning and paprika on both sides of the chicken and place on top of the onion. I used mostly house seasoning but added a little paprika and celery salt. I love house seasoning and it goes good on almost everything!! I poured in about a cup of chicken broth.
 I put it on high for a hour and then turned it to low for 8 hours so that I could time it just right for dinner. About an hour before we were ready to eat I removed most of the juices from the bottom of the slow cooker. I strained the juice to get out the onion pieces and saved the juice to make broth. It was so strong I was able to add more than double the water and ended up freezing a lot of broth for future meals. The chicken was so tender it was falling apart when I was trying to remove it from the slow cooker.
I have also left all of the juices in the chicken and just removed the chicken. Then I added carrots and celery to the crock pot and put all the bones back in. I let that heat in the crockpot for 1-2 hours and then strained it all and froze the broth. I think that broth is going to be even better than the ones shown above.
Chicken once finished!! Broth when it is was cooking!
Print



---