Sipping Tea and Sharing Recipes on The Shady Porch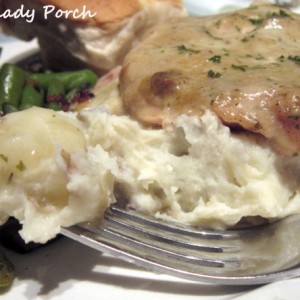 We are very excited to have a guest post from our friend Danette today! She was one of the first bloggers we met when we started Recipes We Love and has always been so kind and helpful! I will say I can't wait to try this recipe!!
Hi, I'm Danette or "D" from The Shady Porch, where I share recipes, crafts, DIY projects, and some gardening adventures. I met Ann Kelly and Amber through the Crazy Cooking Challenge, when I was inspired by their Cheesy Baked Mashed Potatoes with Bacon recipe, which I prepared and won the competition! Since that auspicious beginning, they graciously accepted my invitation to be the 1st guest hosts at The Shady Porch and shared their Slow Cooker Pork Tenderloin, which was a big hit! Now they have invited me to share one of my favorite recipes with you!
I think Slow Cookers are a cook's best friend, especially on those busy days we all have. Therefore, I am sharing my favorite slow cooker recipe... Ranch Crock Pot Pork Chops & Parmesan Mashed Potatoes.
Here's a great Sunday dinner that practically cooks itself while you get all the kudos. That's right...just allow the busy cook's best friend, Mr. Crock Pot, do all the work. This is an easy recipe that I've made even easier using some of today's modern conveniences!
Ranch Crock Pot Pork Chops with Parmesan Mashed Potatoes
Prep Time : 30 minutes
Cook Time : 4h 00 min
Instructions
Note - If you buy bone-in chops, be aware that the crock pot will cook the bones out of the chops and you will need to remove them from the gravy.
Place pork chops, soup and Ranch seasoning in crock pot and cook for 4 hours on high or 6 hours on low. While the pork chops cooked, I roasted my garlic.
How to Roast a Garlic - Preheat the oven to 350 degrees. Remove all of the loose papery skins from the outside of the garlic head, then cut the top off of the garlic, exposing the cloves inside. Drizzle the cloves with olive oil. Wrap the garlic bulb in aluminum foil and place in the oven to bake for 30-40 minutes. Remove from foil and allow to cool for 15 minutes. To remove garlic from skins simply squeeze them out and place them in a bowl (remove any skins that may squeeze out) and mash them with a fork and set aside for later.
Super Quick Parmesan Mashed Potatoes - Once the chops are cooked. Cut the 4 large potatoes into large chunks (I no longer peel my potatoes now that I've learned that most of the health benefits are in the skin!), and place in a medium-sized steaming bag (such as Ziploc Zip-N-Steam). Cook in the microwave for 8 minutes. If tender (fork test it), transfer potatoes to mixing bowl and mix until potatoes are mashed, then add butter, Parmesan cheese, mashed roasted garlic, milk, salt and pepper.
To Serve - Scoop mashed potatoes onto serving plate. Place a pork chop on top of the potatoes, then spoon gravy from the crock pot over all. Sprinkle with parsley and serve.
Thanks for having me over, Amber & Ann Kelly!  I'd love to have you all stop by The Shady Porch! I host the weekly linky party called the Rock 'N Share each Wed-Fri. midnight and you're all invited to join the fun! Blessings, D.

The Shady Porch Join The Shady Porch on Facebook, Google+ or Twitter too!
Keep on loving each other and welcome strangers. Hebrews 13:1-2
Print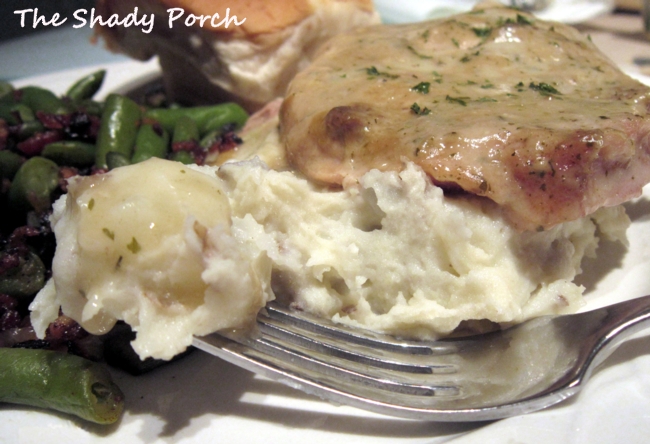 ---