Diced Fried Green Tomatoes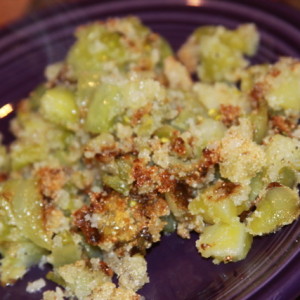 This is our favorite way to enjoy Fried Green tomatoes. Yes normally you slice them and fry them that way but this way they are not as "slimy" and we really enjoy them. We normally also add a couple sliced banana peppers but I had already used up all the peppers with other dishes.
Prep Time : 5 minutes
Cook Time : 30 minutes
Ingredients
Instructions
All You need is Cornmeal, green tomatoes (diced), house seasoning (salt, pepper, and garlic) and oil to fry them in.
We diced the tomatoes and added a little salt to get the juices flowing.
Then add enough cornmeal to just coat the tomatoes and add your house seasoning at this point as well. Once they are coated well add the tomatoes to a HOT pan with the bottom just covered with oil. The trick is to not flip or stir to much.
Once they begin to get a brown crust on them they are ready to be enjoyed.
We would love for you to follow us on Facebook!
Special thanks to our fellow bloggers who let us link up this post: A Glimpse Inside Blog, The Vintage Farmhouse, Simply Sweet Home, Thirty Handmade Days, Chic On A Shoestring Decorating
Print



---