Fried Rice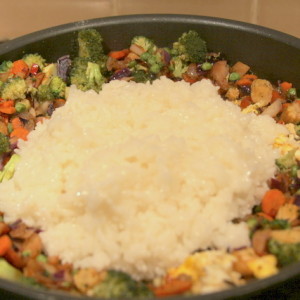 Today I had onion, broccoli, red cabbage, water chestnuts, baby corn (my son's fave), carrots, red pepper, frozen peas, and garlic.
Once veggies have cooked a bit I add the rice and soy sauce.
We eat this as the whole meal. You can add chicken to the top or fish if you want.
Ingredients
Instructions
Cook a few slices of bacon (cut) with a small onion diced. Put to the side.
Scramble an egg in the same pan next, put aside with the bacon. (I cook sushi rice 4 or 6 servings)
In the same pan with a little veg. Oil cook sliced carrots, red cabbage. I use more pepper and garlic salt here.
Cook for about 3-5 mins. Then add frozen broccoli (it is so cheap) baby corn, water chestnuts, bean spouts (drain all cans if not fresh or frozen), or any other veg. You have in the fridge. Add soy sauce (I use gluten free) once all vegs are cooked the way you like add the bacon, egg, and rice. Add more soy to taste and I add sesame seeds till all is mixed well and enjoy.
Print



---