A Recipe From a 5 Year Old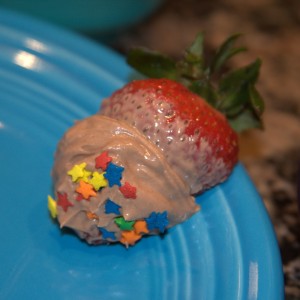 My son sees me cooking and blogging about cooking and talking about healthy eating with people everyday. So one day he said he wanted to make a recipe that would make his friends want to eat more fruits, really he just wanted a reason to eat icing, but hey it works.
So  he pulled out all of this and told me to take a picture. He then went on to tell me  I should put it on the recipe blog. So here it is.
Prep Time : 10 minutes
Cook Time : 15 minutes
Instructions
Mix the above items in the blender until an icing is made.
Then dip fresh fruit in the "icing" and decorate with sprinkles.
This post is linked up at Kitchen fun with My 3 Sons
Print



---