Chess Balls… to die for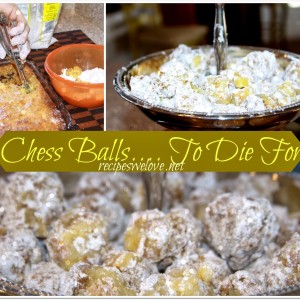 My mother-in-law made these for my wedding rehearsal and they have been a family favorite ever since. They are SO GOOD, you won't believe how GOOD something this easy can be and EVERYONE will want the recipe. Did I mention they are SO VERY GOOD?
So you make a chess bar recipe, then once it has cooled you take a  small ice cream scoop and make small balls out of the chess bars then roll the balls in powdered sugar. It is that easy.
Prep Time : 15 minutes
Cook Time : 45 minutes
Instructions
For the crust: Mix the cake mix, butter, and egg then press into a 9-13 baking dish ( I use one a little smaller but 9x13 will work)
For the filling: Mix the cream cheese, 2 eggs, vanilla, butter, and powdered sugar and pour over your "crust". Bake at 350 for 35-45 minutes. The edges need to be brown but the center will still be gooey.
Let the bars cool to room temperature then make small balls and roll in more powdered sugar and ENJOY!
Print



---