Green Tomato Cake With Icing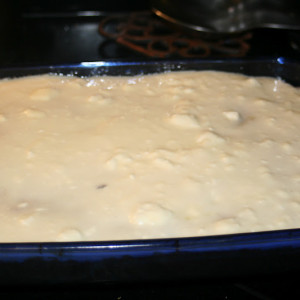 A friend from church made this and it was so GOOD. Don't let the name fool you. it reminds me of carrot cake. She shared the recipe, which I misplaced and so I looked at few and came up with the one below. I just worked on the icing until I thought it was a good flavor for the cake.
Prep Time : 30 minutes
Cook Time : 60 minutes
Instructions
I used more than this but this cake was a wonderful way to get one last dish out of our quickly fading garden. Dice the tomatoes (I put them in my food processor). Sprinkle with 1 tsp salt and let sit for ten minutes. After ten minutes rinse well and strain.
Coat a 9x13 with butter and rub with flour. Preheat oven to 350
Mix banana, softened butter and sugar together. I used my stand mixer.
In a separate bowl mix flour, 1/4 tsp salt, cinnamon and baking soda with a fork. Then add raisins to this.
In the bowl with the banana mixture add the green tomatoes and flour mixture.
I had two super cute helpers that night! They make the counter a little messy but it is totally worth it because they love helping and are more likely to eat the food they help with.
Once the mixture is mixed well it will be thick.
Pour in baking dish.
While the cake is baking put all ingredients for icing together and blend/mix well. Make sure the cream cheese is softened. I didn't wait long enough.
While cake is still warm pour icing over the top. As you can see I didn't let my cream cheese get soft enough and so it was a little lumpy at first.
Print



---