Strawberry Chipotle Jam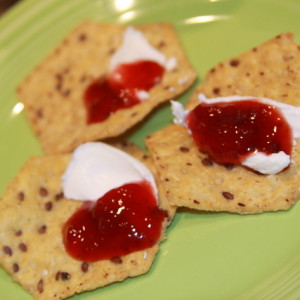 I found this recipe through one of the "blog parities" we work with and shared the idea with my Mother and she wanted to give it a try. This yummy recipe is From Cook In Food, check them out for lots of good ideas and many more pictures for this recipe.
My Mom made this recipe and brought me a jar the last time she came to visit. It it sweet but has a KICK. We enjoy fit on crackers with a little cream cheese. I think it would also go really well with pork for a dipping sauce.
Prep Time : 5 minutes
Cook Time : 10 minutes
Instructions
Crush the berries then in a blender, toss in the lemon juice, the zest, and the chipotles that you've picked out of the can. Blend until creamy.
In a large pot add the mixture from the blender, the berries, the salt and all of the sugar. Heat and bring to a low boil. Simmer for 15 minutes, watching and stirring constantly.
Keep cooking till the jam will "stick" and not run off of a spoon.
The add the jam to sterilized jars and seal in a hot water bath, process for 5 minutes for half pints.
If you have never canned food at home before check out THIS POST on some tips on getting started!
Print



---