Garden Bolognese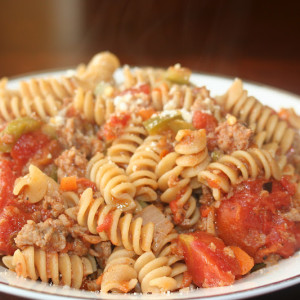 My husband was feeling creative the other night and we had picked several veggies from the garden so he came up with this delicious pasta that he called garden bolognese.
Prep Time : 15 minutes
Cook Time : 30 minutes
Instructions
Pour a little olive oil in a pot, dice all the veggies and garlic and add to pot along with the sausage. Sprinkle with house seasoning. Cook until sausage is done and veggies are tender. Add the can of tomatoes, basil cubes and crushed red pepper (optional). While the sauce is simmering boil the noodles until al dente.
Pour sauce over pasta and enjoy!
Print



---