Round Steak Sandwich with Onions and Peppers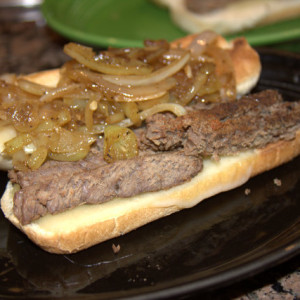 My father raises our beef so we get cuts of meat that we don't always want or know what to do with it at. Round steak is one of those cuts I am not a big fan of. But this cut is also very affordable at the store and this was a BIG hit with my husband.
Prep Time : 15 minutes
Cook Time : 30 minutes
Instructions
I cook about 1 1/2 pounds of round steak in my slow cooker on high for about 3 hours. I drizzled a little olive oil over the meat and used about 1 1/2 tablespoons of house seasoning (salt, pepper, garlic) and 1/2 teaspoon of cayenne pepper.
Once the beef was done I sliced it as thin as I could without just crumbling apart.
Then for 4 sandwiches I sliced 4 large banana peppers (you can use bell peppers too), 1 large onion, and 2 cloves of garlic.
I added the peppers, onions, and garlic to a hot pan with a little olive oil and 2 teaspoons of house seasoning (salt, pepper, garlic) until they just begin to soften. Then add 1/4 of the juice from the crock pot and 2 Tablespoons worchestire sauce and sautee for another 2 minutes.
While the peppers and onions cook toast some bread with a white cheese of your choice I use Havarti, until the cheese is melted. Then add the slice beef, and pepper, and onion mixture, Then we also added a little ranch dressing which is not in the pictures.
It is not common for my husband to EVER say something is really good or ask for seconds. And with this sandwich he took a bite and said, "This is really good" and asked for a second sandwich.
Print



---