Pear Sauce — Water Bath or Freeze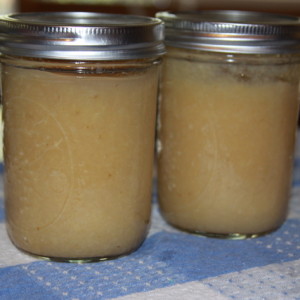 I am all about getting fresh local fruits and vegetables for FREE and canning or freezing them for my family to enjoy all year long. My son LOVES applesauce and pear sauce. So, when my Father brought me some pears from a client's house I was excited. I don't pay for apples and pears because if you ask around there is always someone who has trees and do not want the fruit. I actually have several pear trees in my yard and did not think I would need to find pears this year but we had a hail storm while my trees were in bloom and out of 5 trees we got 2 pears. So you never know from year to year what you will have.
Warning...to make pear sauce you need a LOT of pears to start with. I had about 10 quarts of sliced pears to start (I prefer to have reveal gallons at a time when I do sauce but I will take anything I can get for FREE) with and made about 7 pints of sauce. I also used my leftover scraps to make pear juice and canned it, mainly to have for our morning smoothies.
Prep Time : 15 minutes
Cook Time : 30 minutes
Instructions
Along with a way to process in a water bath, jars, and a food mill.
So here we go, wash, and core your pears. I don't worry about peeling but do cut out any bad spots
while I am coring and slicing.
Then throw all your pear pieces in a large stock pot, also add about about 2 inches of water. I ended up with about 10 quarts in my pan so I added about 1/2 cup of lemon juice and these were not the sweetest so I added about 3/4 cups of sugar which I don't normally do you could also use honey but I was out of honey.
Then cover the pot and let simmer on high for about 20 mins.
Once they cook they are soft but not totally mushy. Then add them to your food milll and work the pulp through the meal. I saved all my peels and extra pieces that would not go through the mill to make juice with.
Once you have the sauce all ready just fill sterilized jars, leaving 1/2 inch of head space, and process in a water bath for 20 minutes for quarts and pints.
If you don't can you can also freeze this once you run it through the food mill.
Print



---