Chicken Noodle Soup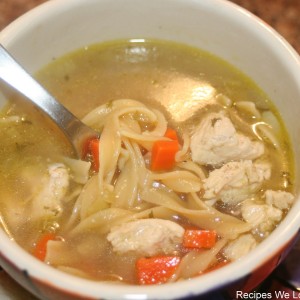 This is a recipe from last fall that didn't have any pictures on it and my allergies are driving me crazy today so I thought today would be the perfect day for some homemade soup. In the picture below I only had frozen garlic cubes and added a piece of celery. I didn't have green onions so I used about 1/3 of a yellow onion.
Prep Time : 15 minutes
Cook Time : 30 minutes
Instructions
Pour some olive oil in a pot and heat over medium. Add the garlic, onion, carrots and celery (optional). Sautee until the veggies are slightly tender.
While the veggies are cooking I cooked the chicken breasts in a skillet with some olive oil and house seasoning.
I added chicken broth. My chicken broth still had some frozen pieces in it because I grabbed some I had frozen a while back using this recipe.
I added salt, pepper, bay leaves and parsley. I let this come to a boil and then reduced to a simmer for about 20-30 minutes (doesn't have to be this long I was waiting on my hubby to get home).
Anytime a recipe calls for bay leaves I put them in a tea strainer so that it is easy to remove at the end.
See just hook to side and you don't have to worry about finding it and getting it back out!
I added the two cups for egg noodles and turned it back up to a boil to soften the noodles. We had it with some buttered bread.
Print



---