Hasselback Potatoes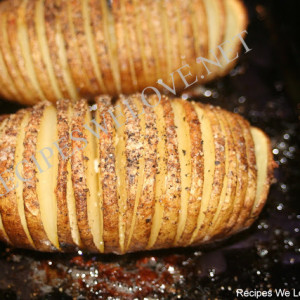 My friend Hannah submitted these last year and I had forgotten they were on the blog. I was looking back through some of the older posts trying to find something different to do for a potato side dish and decided to give these a try. I am so glad I did! They were really good.  They would be a great side dish to have with steak or chicken!
Prep Time : 15 minutes
Cook Time : 60 minutes
Ingredients
Instructions
Preheat the oven to 425˚F.  Place potato on a cutting board longways. I cut the tips off of my and then sliced through the potato every few centimeters.
Put the potatoes in a baking dish and place some garlic in between the slits. Spread some butter over the top and then drizzle with olive oil.  ( I didn't have garlic cloves so I melted some frozen garlic cubes with a few tablespoons of butter and poured it over the potatoes. I had to kind of pull on mine to separate the pieces some and then drizzled the olive oil over them.)  sprinkle with some sea salt and black pepper.
Bake the potatoes for about 40 minutes or until the potatoes turn crispy. Mine took a little longer.
On this particular night I served them with the Marinated Chicken Tenders. We were also going to have steamed veggies but our bag had a hole in it so they had freezer burn.
Print



---