BBQ Bacon and Veggie Pizza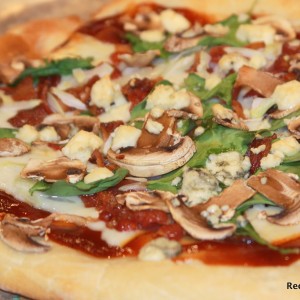 The other night my Son had a friend over and they were making pizzas for dinner and I had leftover bacon from our dinner the night before (breakfast for dinner), and pizza dough in the freezer so I planned on making Bacon BBQ Pizza. Put as you can tell it turned out a little different. That is why I LOVE cooking, you can think you know what the end result will be, and that you don't have to follow a recipe to the letter to have a great dish or meal.
Prep Time : 10 minutes
Cook Time : 15 minutes
Instructions
On your favorite pizza crust, put some BBQ sauce ( I like Sweet Baby Ray's) a layer of sliced muenster cheese or anything white cheese you have and thick diced bacon (I like this bacon http://www.traderjoes.com/fearless-flyer/article.asp?article_id=260 ) with diced onions.
Add a layer of baby spinach and some slice mushrooms and top with some blue cheese crumbles.
Bake till cheese is melted and the veggies are wilted and warmed throughout.
Print



---