Stuffed Mushrooms 2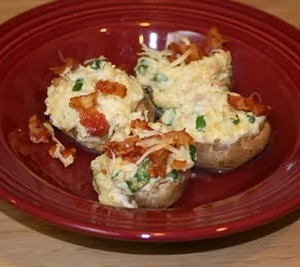 I made these a few weeks ago just using up items I had found and wanted to find a way to use them up. These were pretty good, but not as good as my Crab Stuffed Mushrooms but pretty good.
Prep Time : 10 minutes
Cook Time : 40 minutes
Ingredients
Instructions
I mixed everything up other than the mushrooms and bacon. Then stuffed the mushrooms with few pieces of bacon on top, and baked about 40 minutes at 350 degrees.
Print



---