Gifts from the Kitchen (idea #2)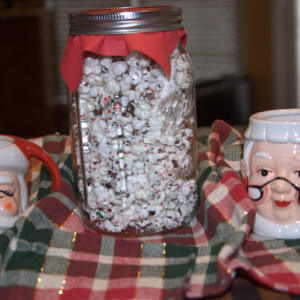 Gifts from the Kitchen Part 2 --- Most of the gifts in this series are small very inexpensive gifts. The are great for Shut ins, hostess gifts,  neighbors, teachers, friends, mailman, etc. We will be giving some of these ideas to family as well included into other gifts. Christmas is a time of JOY and gift giving does not have to be a huge stress on your time or budget.
Yesterday we Shared our Christmas Popcorn and here is a easy and fast way to give it as a gift. I would prefer a clear bag over the jar since it would make this gift about half the price as using the jar but I was all out of bags.
Prep Time : 10 minutes
Cook Time : 15 minutes
Ingredients
Instructions
Over the popcorn pour melted almond bark, I put my in the microwave for about 45 seconds. If you are using microwave popcorn you will want 1 1/2 - 2 pieces of almond bark melted per bag of popcorn. Then once the popcorn is coated well add the sprinkles.
Once you have made the Christmas Popcorn I put mine in the fridge so it sets up fast (you can leave it on the counter it just takes longer). Once the coating is hard break it apart and fill your jar or bag. If you Fill the container up before it is set well you will have smeared almond bark along the inside of your jar or bag and it just does not look as nice. On this one I added some red paper before adding the jar ring but you could also use fabric.
Print



---