Breakfast Burrito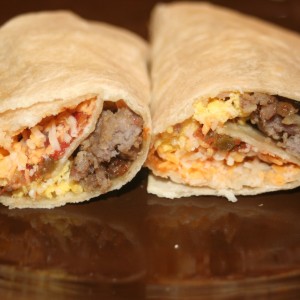 I (Amber) use to love getting breakfast burritos for breakfast but now that I am a SAHM I am rarely out and about at breakfast time and the there are NOT many places my kids can eat breakfast with their allergies so I decided to make my own breakfast burritos and I think they were better than any fast food joint!
Prep Time : 5 minutes
Cook Time : 15 minutes
Ingredients
Instructions
Brown the sausage in a skillet with the diced onion. Put in a bowl once finished.
I poured off the leftover grease and then mixed the eggs and little milk together and cooked scrambled eggs in the same skillet as to not dirty up any more dishes.
I cooked out tortillas and then layered the toppings. I think the key is the cheese and salsa but you can put whatever you like on it!
Print



---